LEW PROJECT丨峻造.山城巷概念店
作者:LEW & ASSOCIATES   时间:2021-09-16
山,是重庆的建城形态。独特的地势形成以街为市的格局,城市脉络多元而立体。有着百年历史的山城巷,地势高差大、坡度陡峭,留存着原始风貌的建筑随着山地起伏上下错叠。基于场所精神,峻造山城巷店以"隐秘山谷"为主题,将建筑、空间与形式巧妙结合。
Mountain is the urban form of Chongqing City. Its unique topography formed a business landscape of taking streets as its market place, so that its urban context is diverse and three-dimensional. The Mountain City Alley, with a century-old history, has terrains quite uneven and slopes extremely steep, where buildings, retaining original styles, are staggered up and down along with its surrounding undulating mountains. Based on spirit of the place, MMAKE Mountain City Alley Store, taking "Hidden Vally" as its theme, artfully combined architecture, space, and form.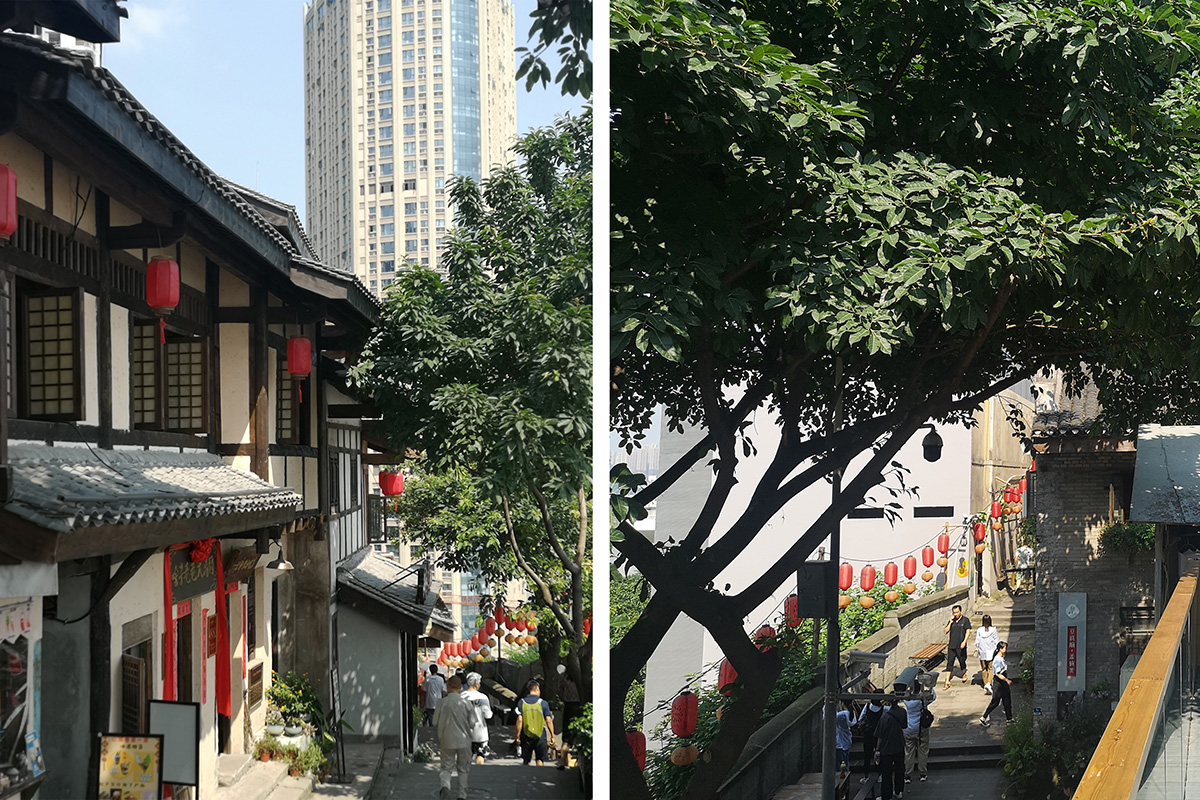 1楼为展示售卖区域,墙面生出的折叠立面以"山型"延续文脉和历史,模糊室内外界限感。内部以不规则斜面进行分割,用"线"的秩序美丰富空间。黑色微水泥还原出山谷的质朴拙意,游走间感知手工自然的魅力,享受探寻的乐趣。
The first floor, an area for display and sales, has folded facades outstanding from the wall, which is an extension to its local culture and history with its "mountain shape" and also blurs the boundaries between indoor and outdoor. The interior is divided by irregular surfaces which enriches the space with orderly beauty of lines. Besides, black micro-cement paint leave people impression of rustic valley; while walking in the space, people can feel the charm of handicraft and nature, enjoy the fun of exploration.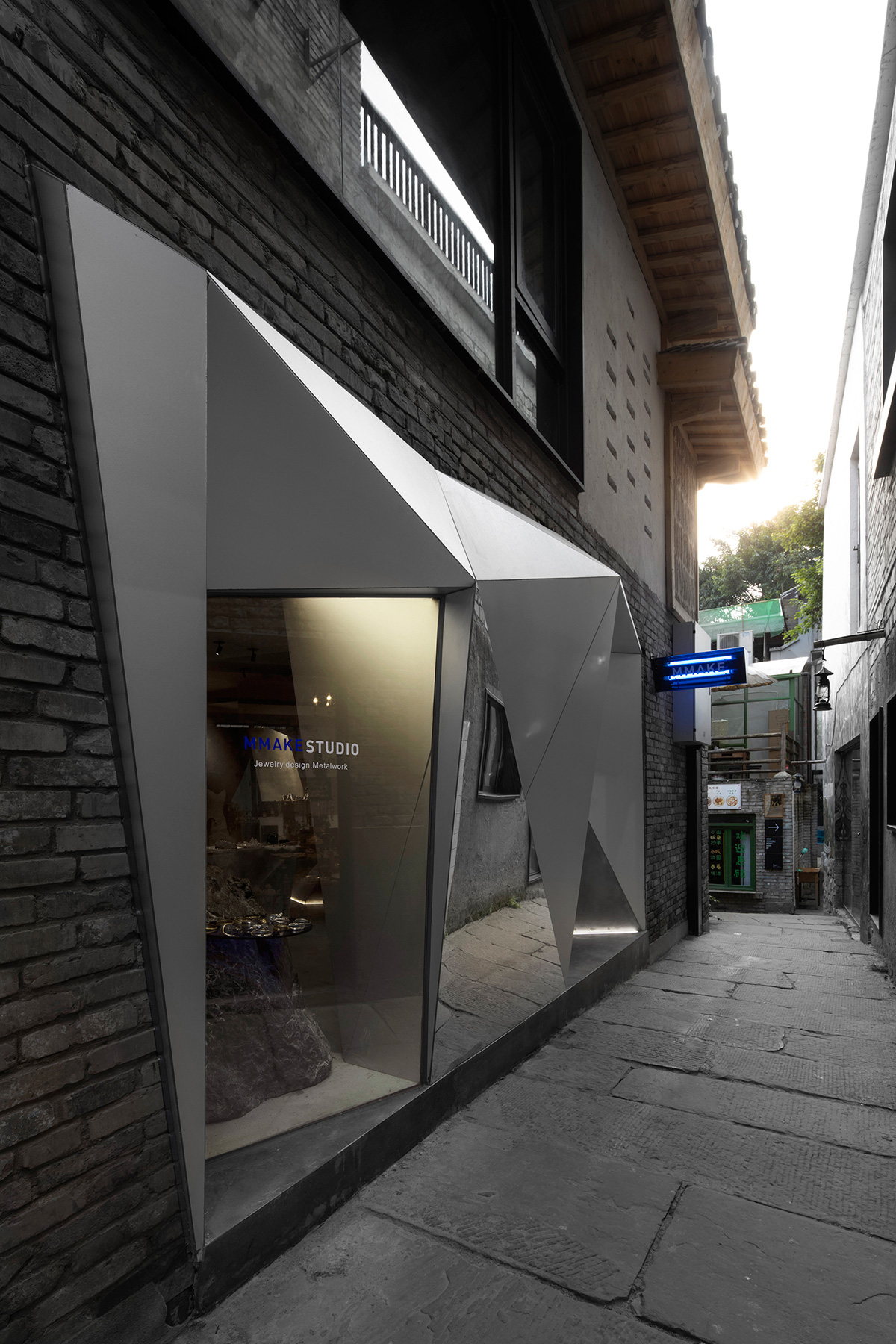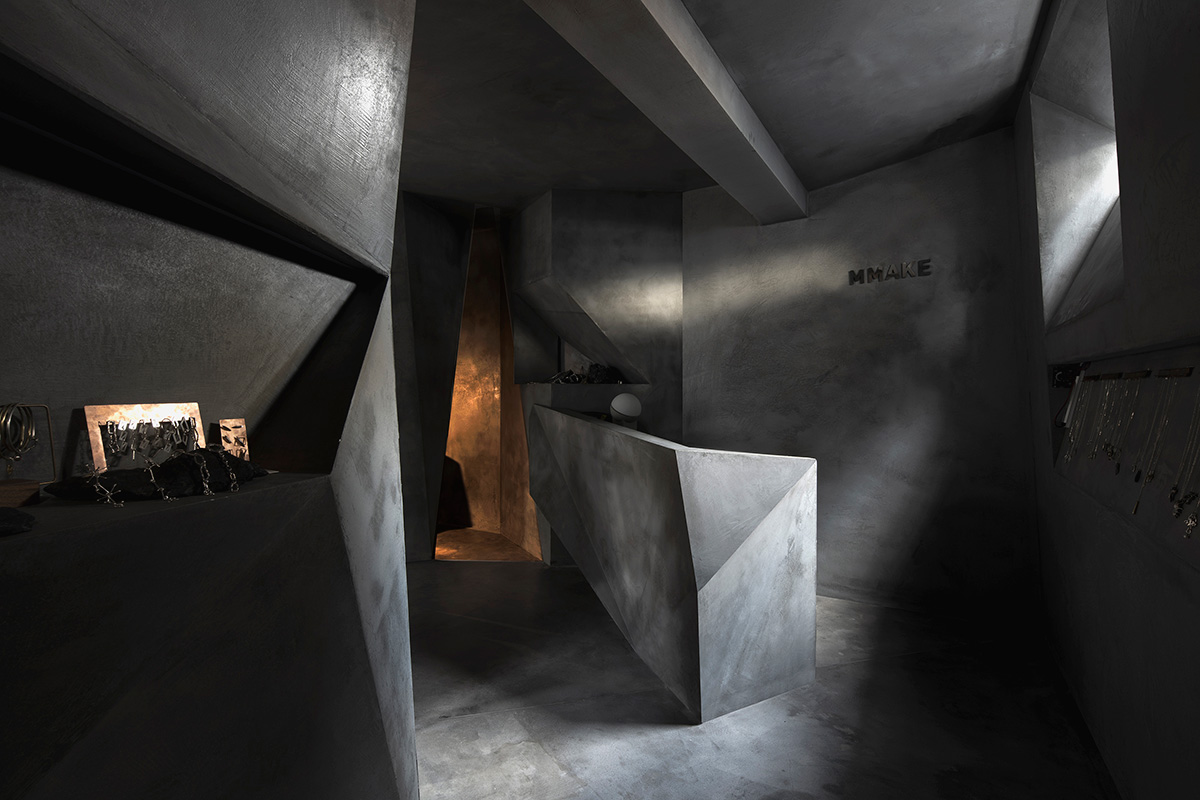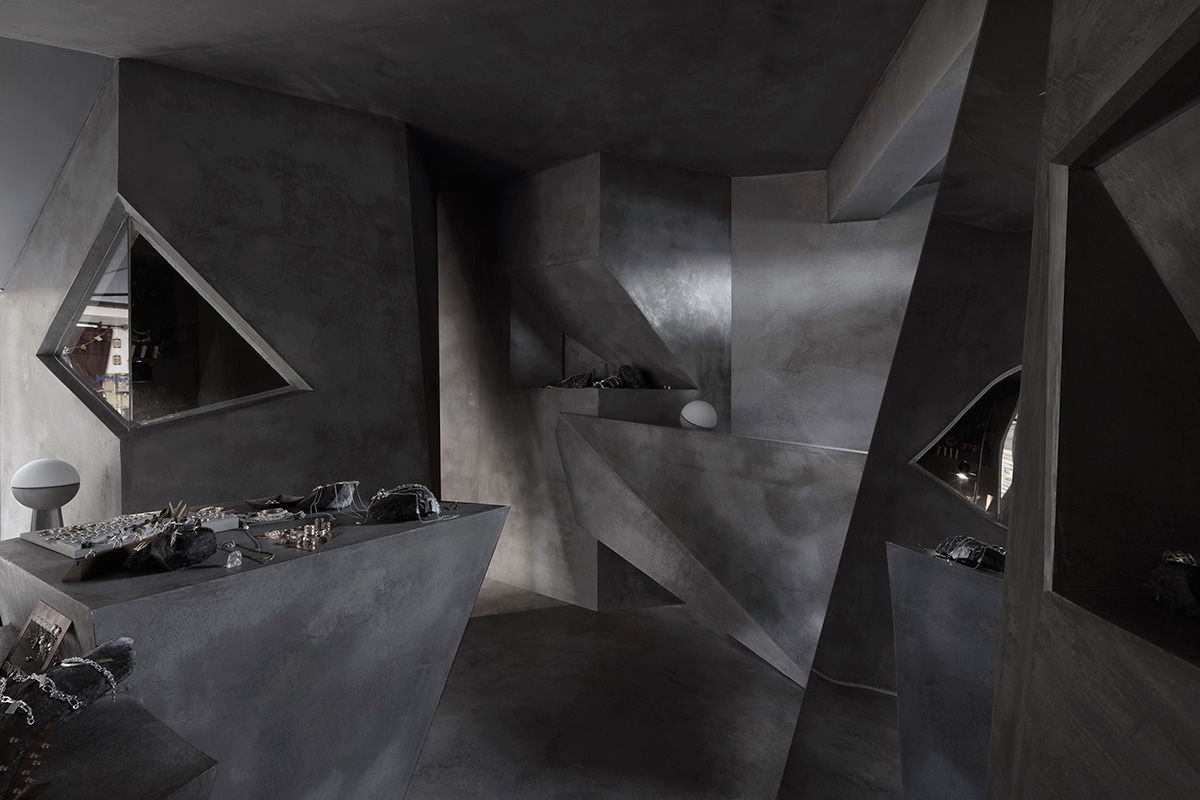 光与影的介入打破单一色调带来的沉闷,器饰泛起粼粼波澜,镜面折射出虚实迷幻,粗犷中也有着微妙细腻感,呼应空间的情绪表达。
The intervention of light and shadow breaks dullness in the space brought by its monochrome palette. With jewelry sparkling under the light and mirrors reflecting the illusion of reality and reflection, a subtle sense of delicacy emerged in roughness, echoing the emotional expression of the space.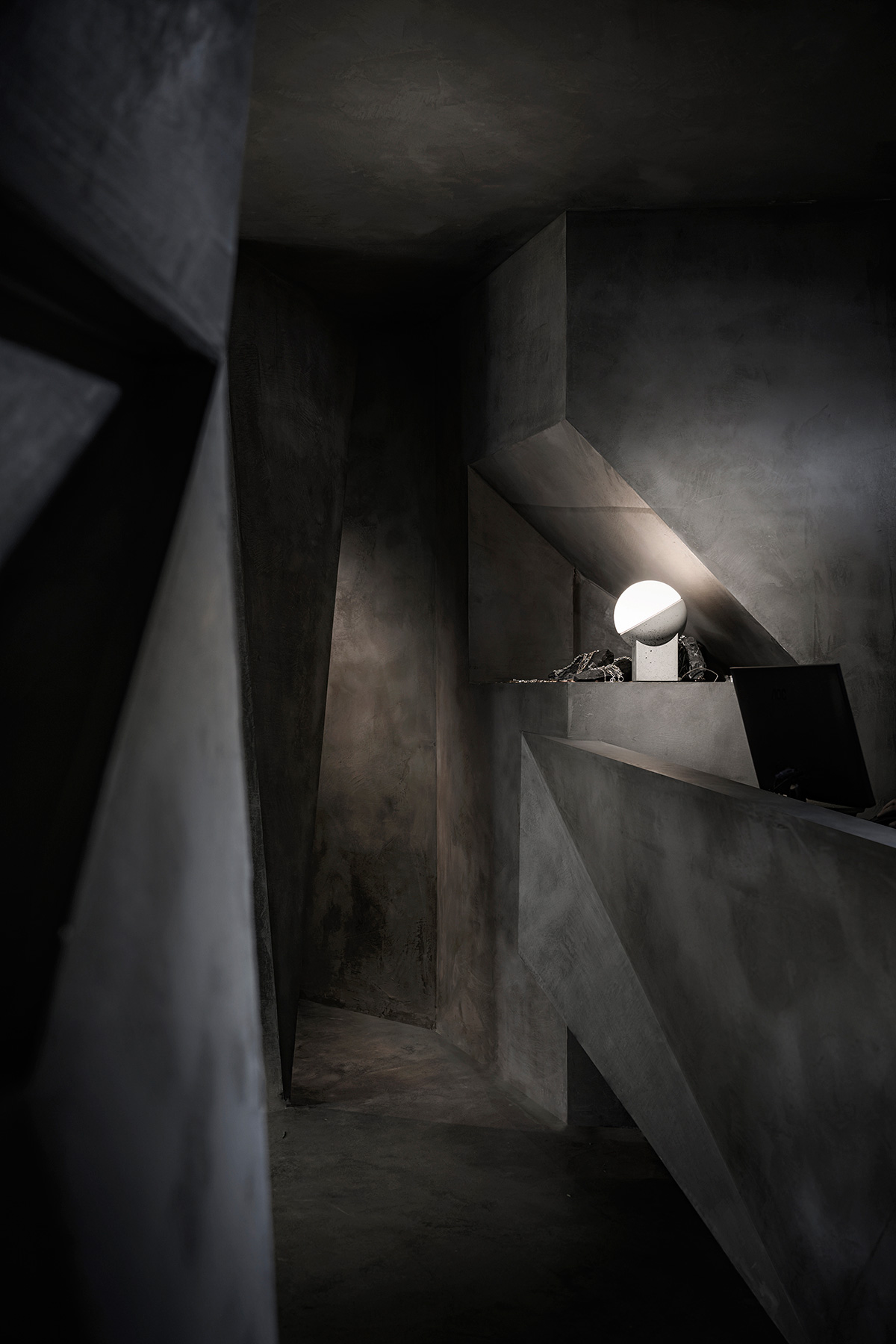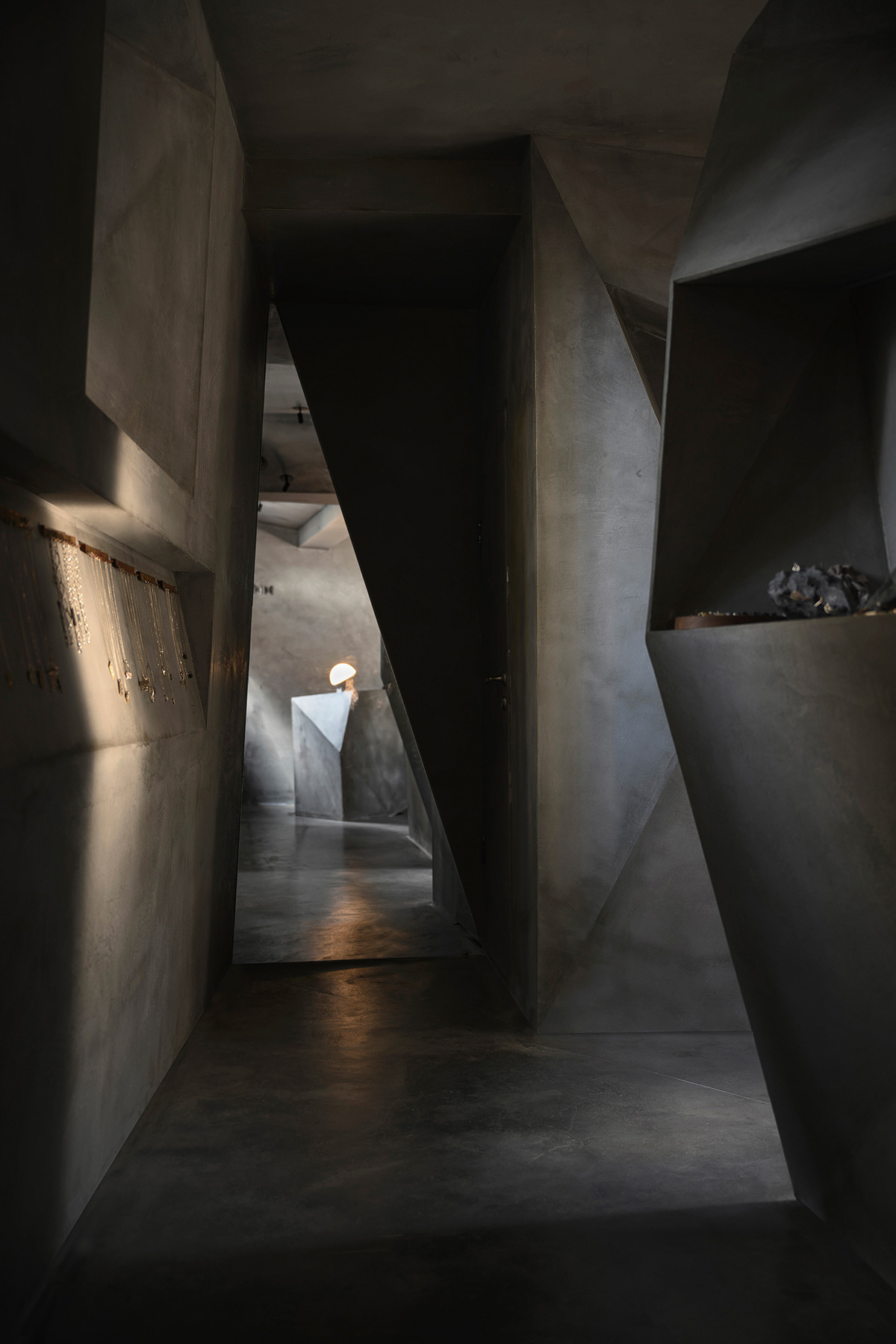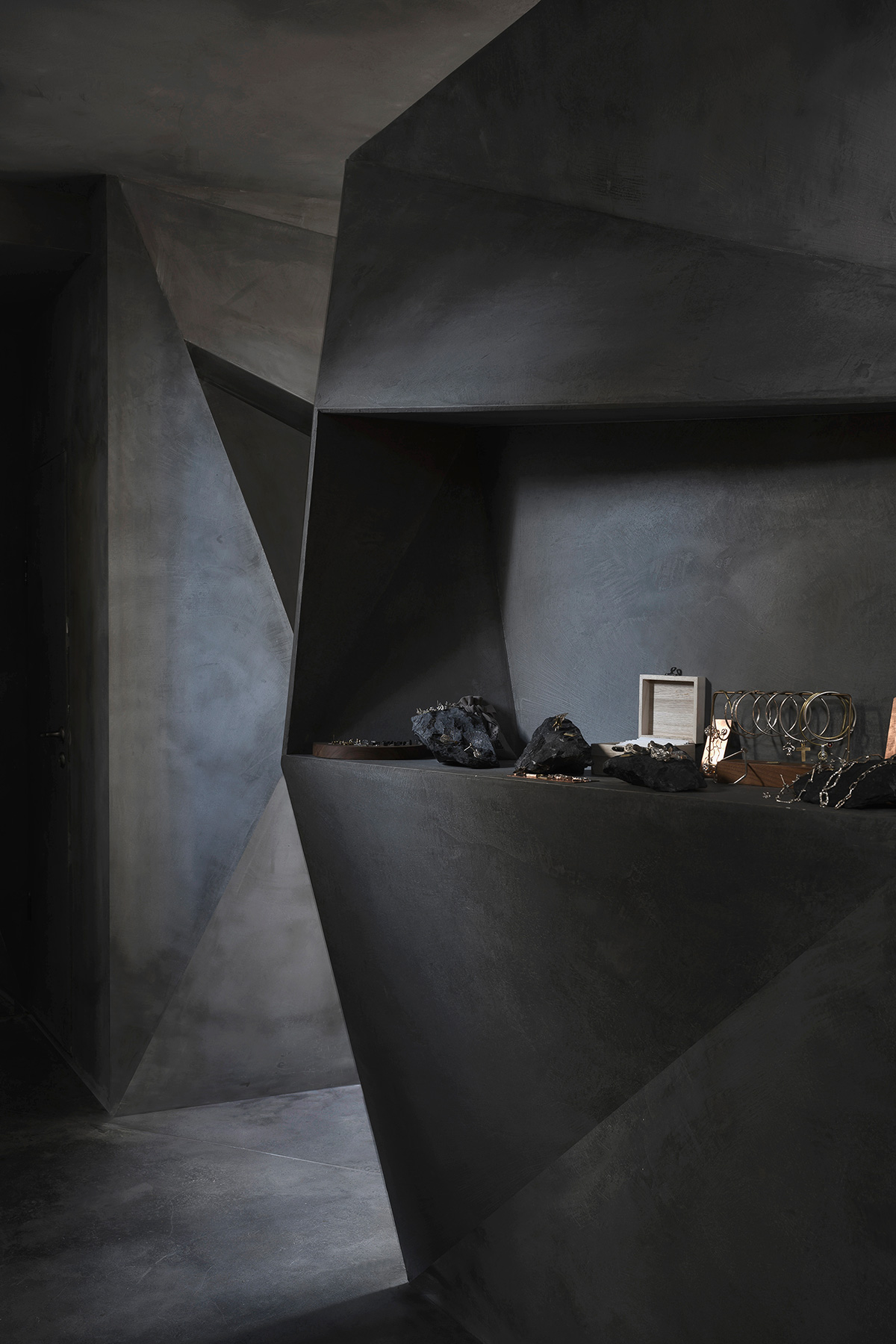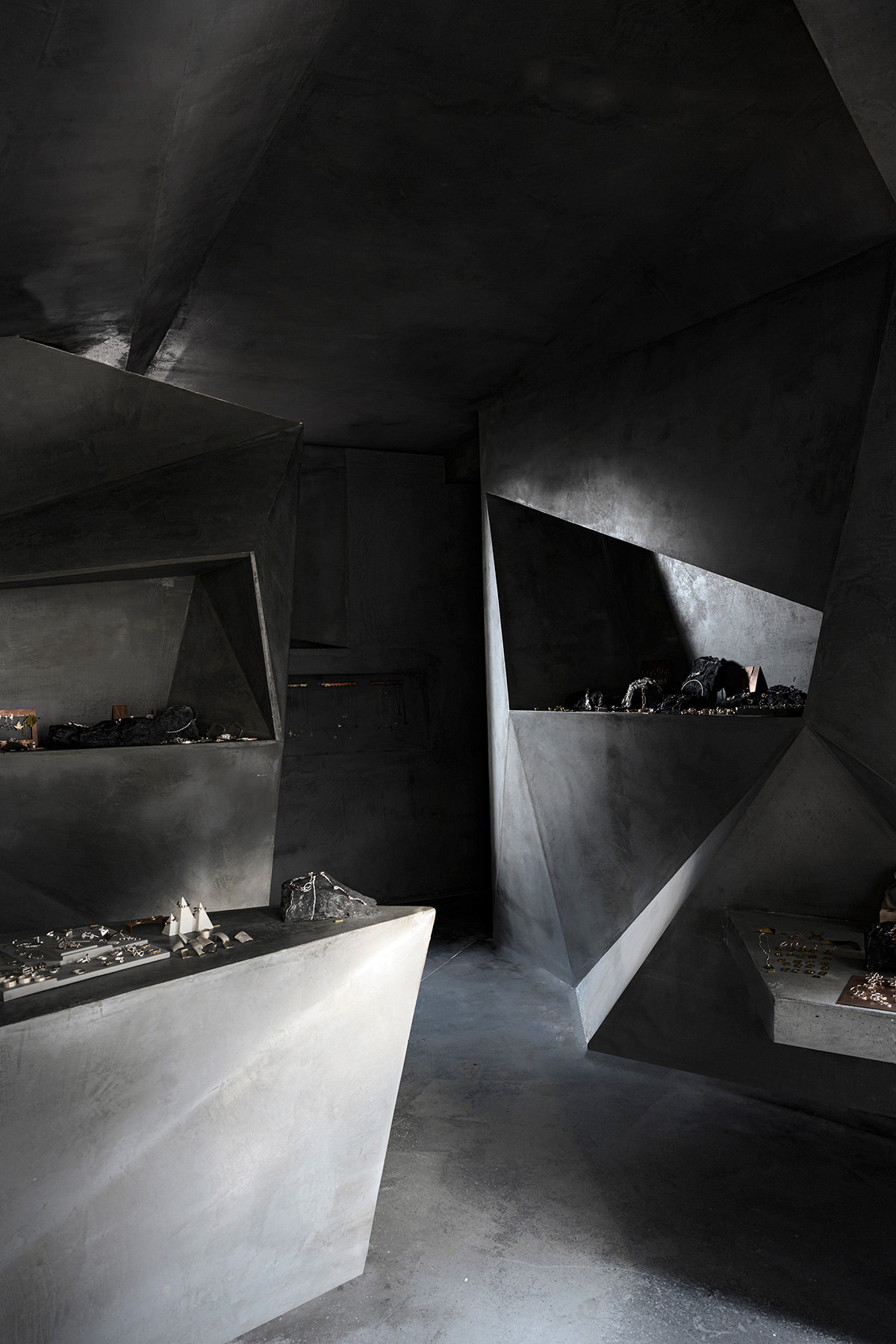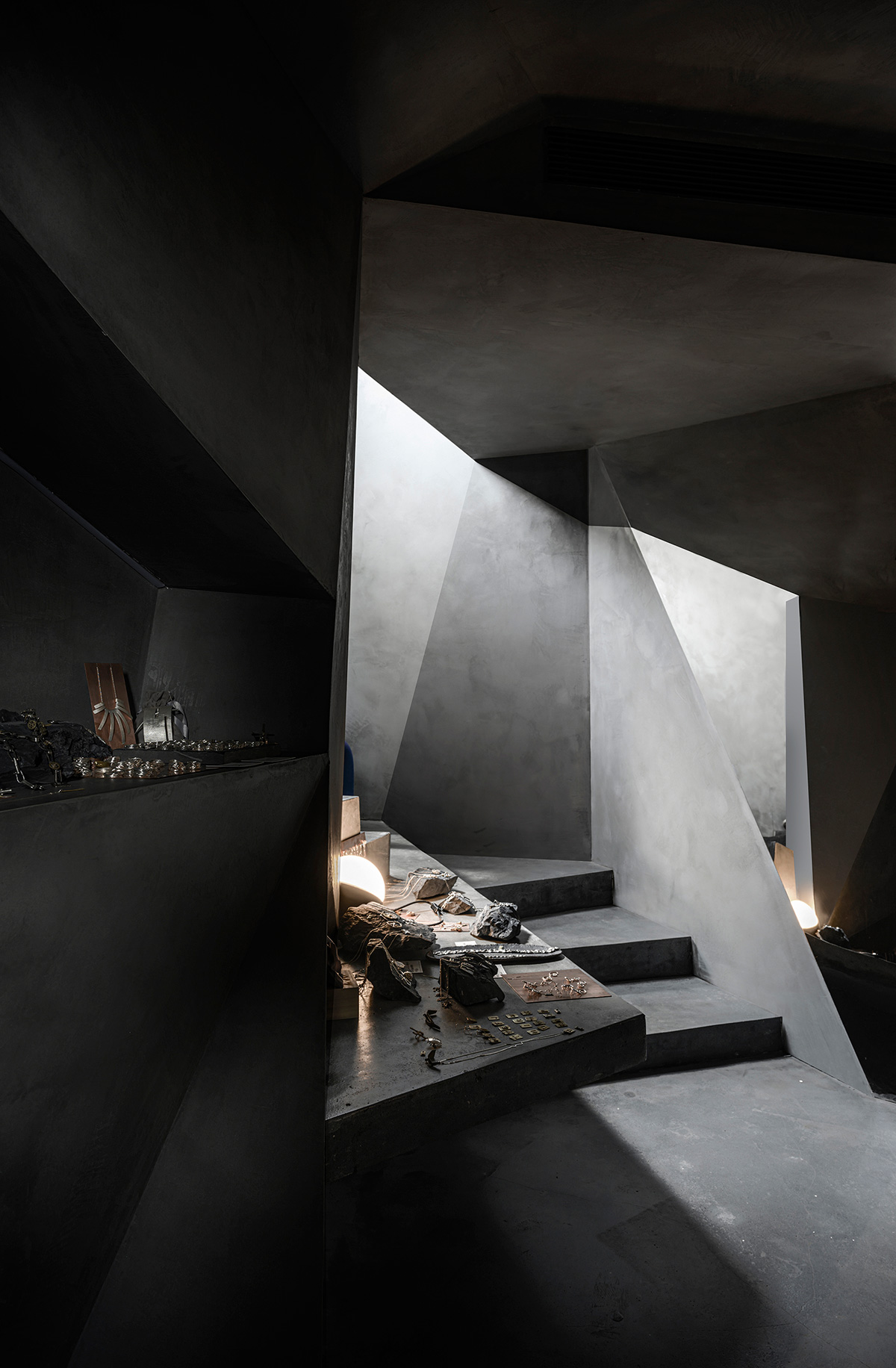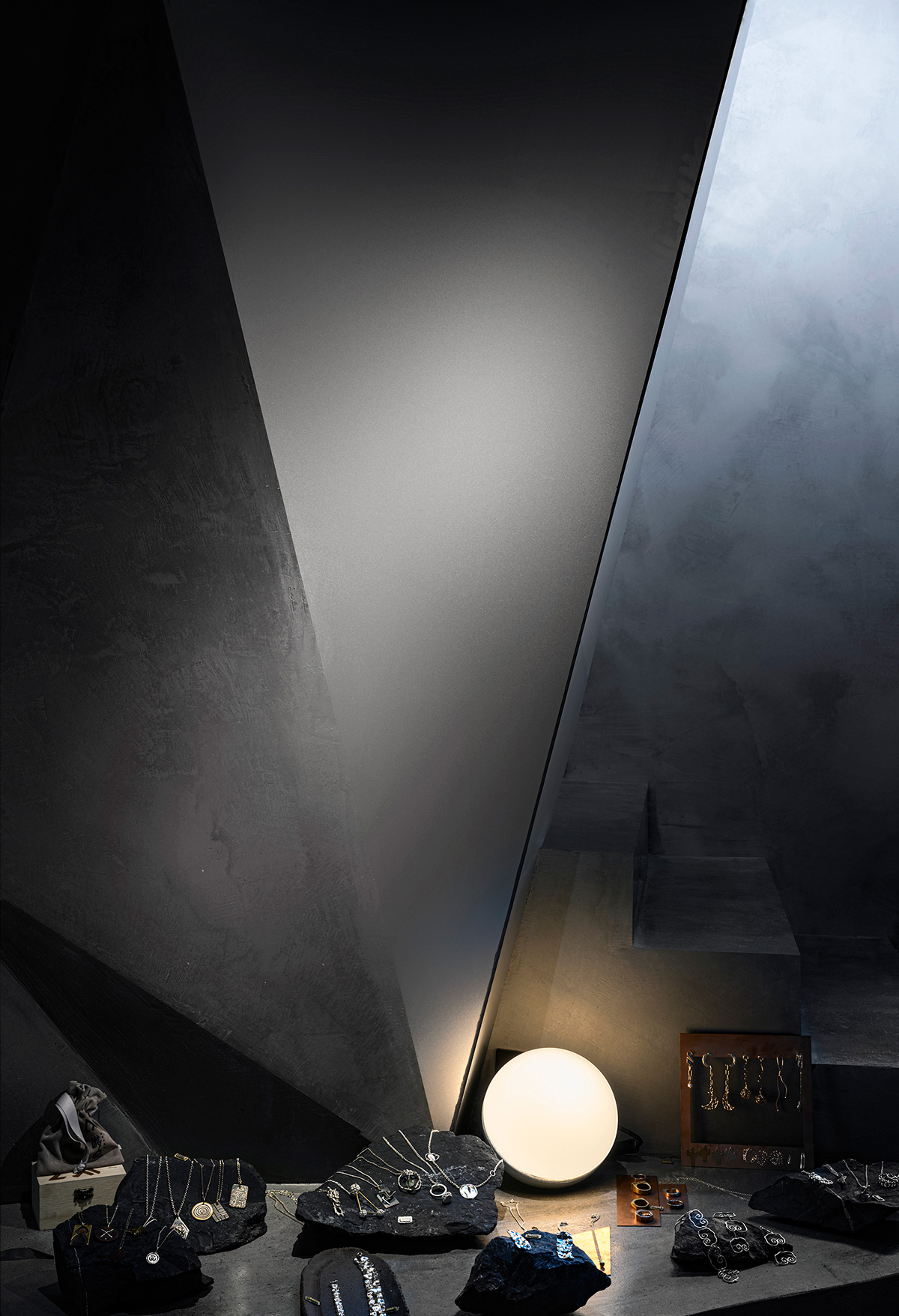 楼梯间顶部穿插灯箱设计延伸至室内,形成天窗效果,极具未来感。2楼作为匠人们的工作间,光线充足舒适实用,见证着每一个灵感迸发的时刻。
A light panel stretches across the top of stairwell and extended into the room on the 2nd floor to form a skylight effect, which endows the space with a sense of future. As a workshop for craftsmen, the 2nd floor is comfort and functional with sufficient natural light, witnessing each moment of the burst of inspiration.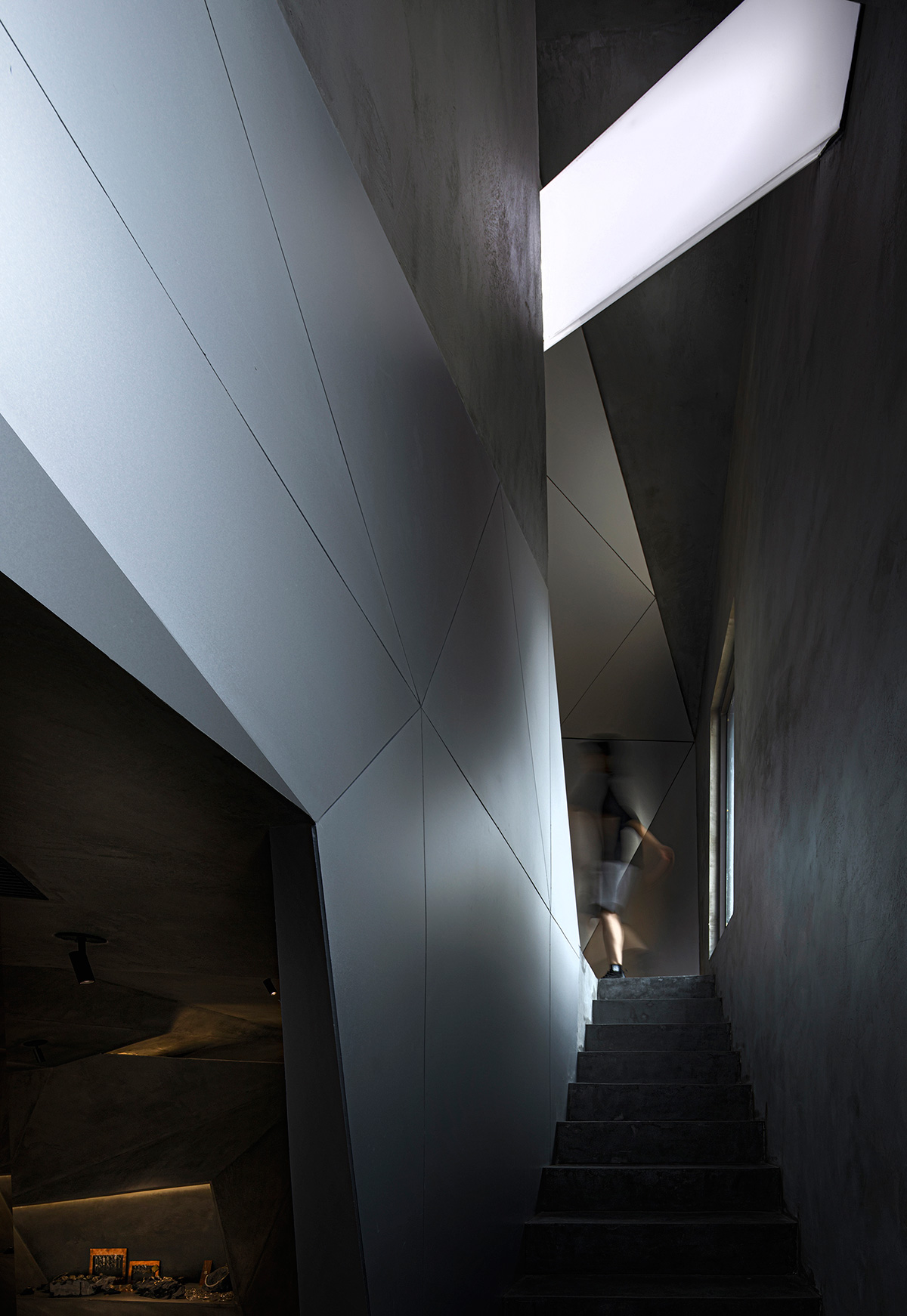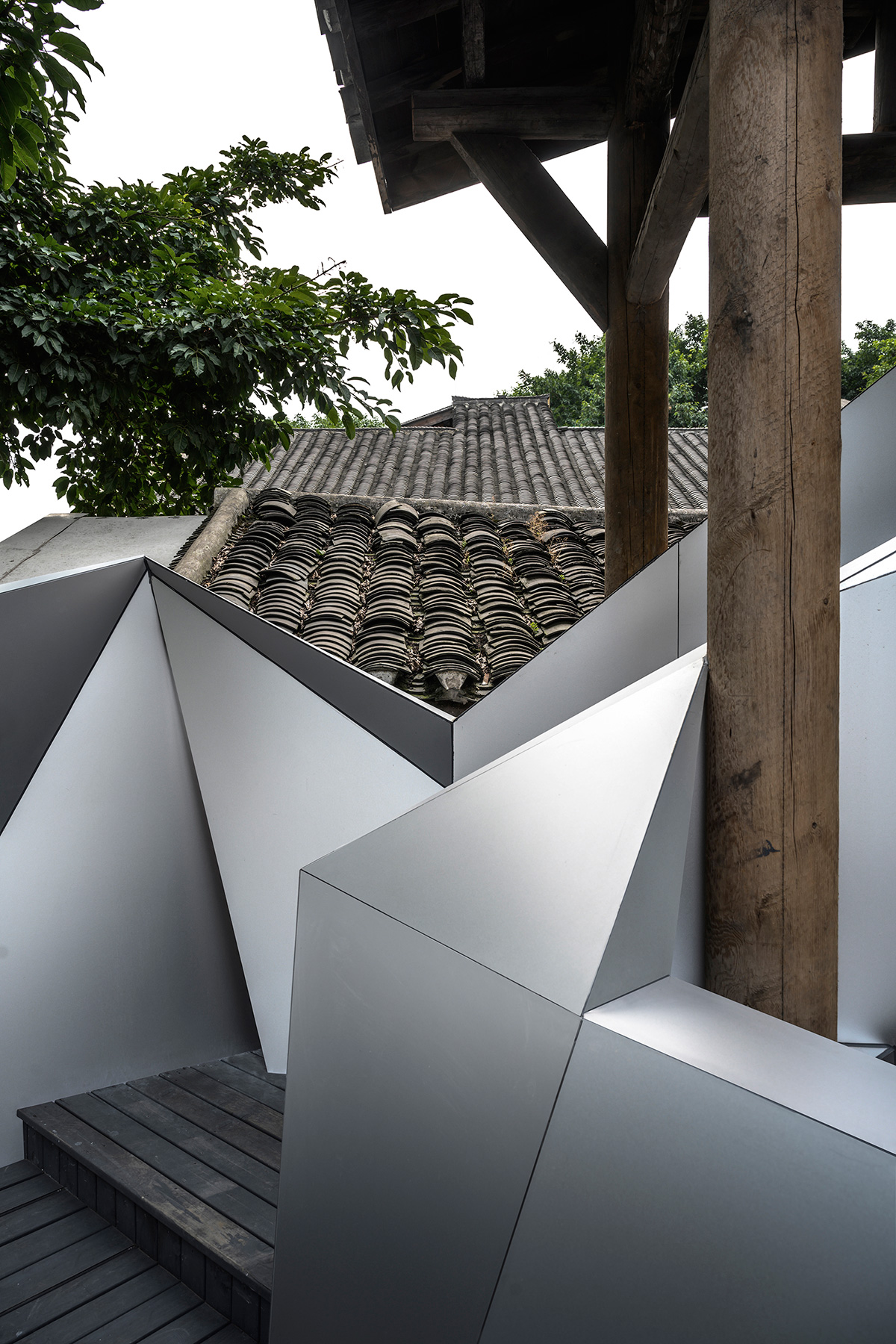 由室内伸展至户外露台的几何形态,将自然环境与历史建筑互相关联,从而形成现代设计与整体秩序的微妙共生。也是场所精神的贯穿与延续。
The geometric construction extending from indoor to outdoor terrace connected the natural environment with historical buildings so as to build a subtle symbiosis of modern design and the overall order, which is also the penetration and extension of spirit of the place.
· · · 图纸呈现 · · ·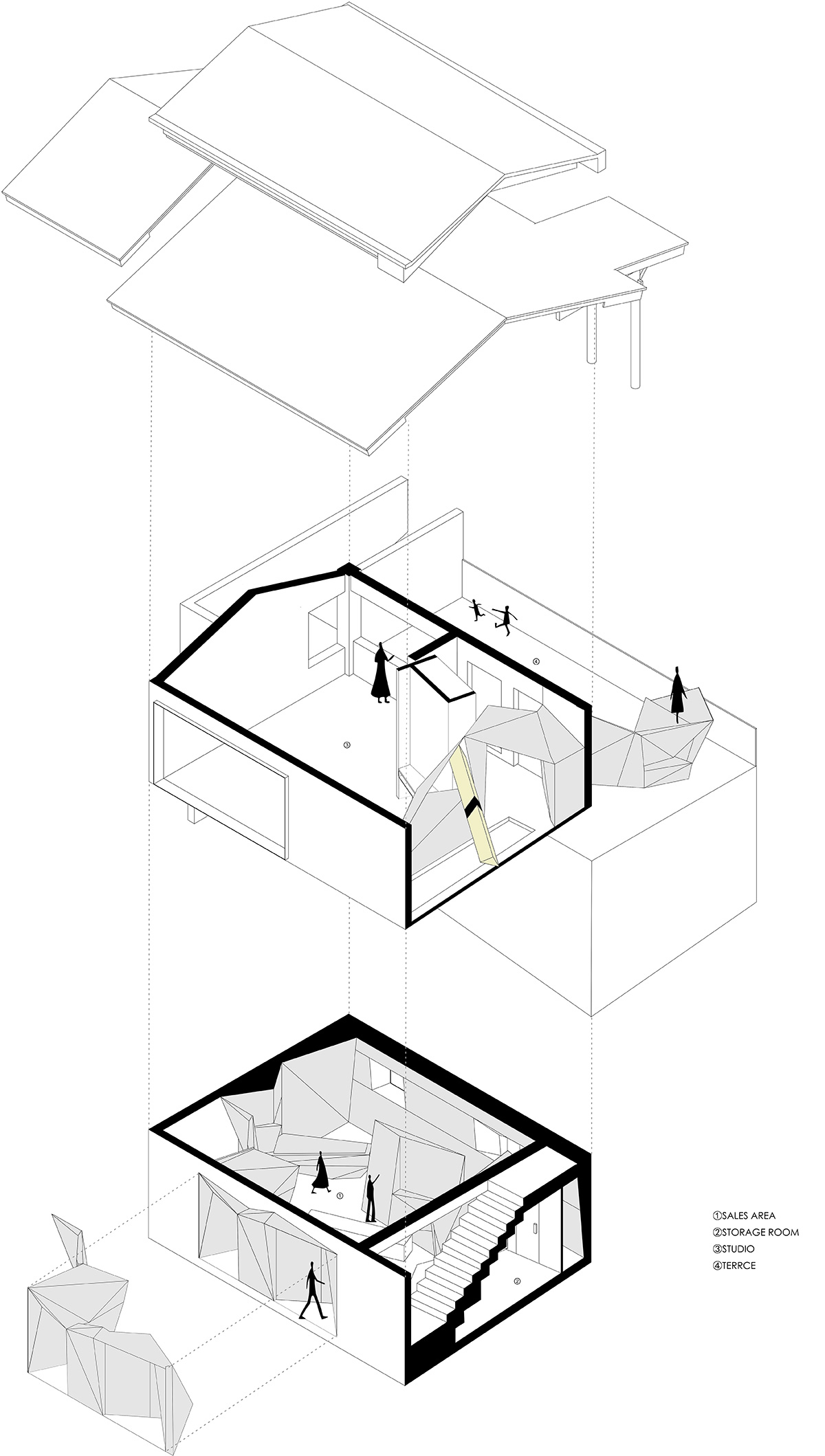 项目名称:峻造匠人工坊·山城巷店
Project Name: MMAKE STUDIO
项目地点:重庆市渝中区
Project Location: Yuzhong District, Chongqing
项目业主:重庆峻造文化创意有限公司
Developer: Chongqing MMAKE Cultural Creativity Co., Ltd.
项目面积:108㎡
Project Area: 108㎡
室内设计:里与外设计
Interior Design: LEW & ASSOCIATES
设计团队:刘富荣、蔺聪、龚玮坭
Design Team:Adelson Lew、Lin Cong、Gong Weini
文案&翻译:余智敏、肖俊
Article&Translation:Yu Zhimin、Ellen Shaw
完成时间:2021年5月
Date:2021.5
摄 影:钱敏
Photographer:QianMin